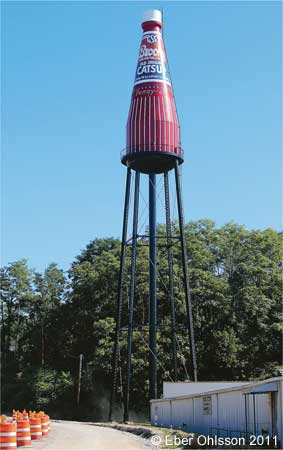 Cirkulation 5/2014

A free translation to English:

Ketchup Effect, it might be called, when motorists stop on route 159 in the town of Collinsville, Illinois, in the United States, to photograph the special water tower. They are then only 20 km east of the Mississippi River and the city of St. Louis.

The water tower, with the volume of 380 m³, was completed in 1949 and is 52 m high, of which 21 m is bottle. Brooks catsup, catsup is another name for ketchup, was manufactured here until the 1960s. When the tower was in danger of disappearing, formed a conservation association, who got the tower repainted in 1995, and listed in the register of historic buildings in the United States. A water tower with its own web site.