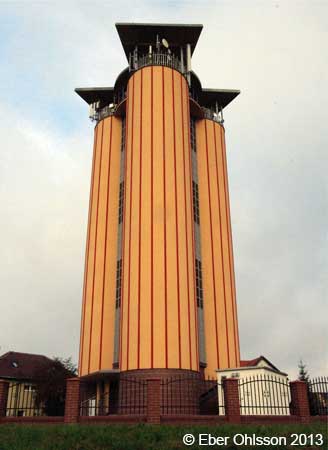 Cirkulation 3/2021

A free translation to English:

When the Second World War was over, the border between Germany and Poland came to be the Oder and Neiße rivers. It also meant that cities that crossed the river came after the war to end up in different countries. One such city is Görlitz, where the eastern district is now located in Poland and is called Zgorzelec.

Even if a border is moved, those who live there must have water and perhaps a water tower. In Zgorzelec, therefore, a water tower was built in 1969 consisting of three concrete cylinders with a diameter of 4.2 meters and 28.5 meters high, standing in triangle, each containing 260 m³, connected by glass walls and a staircase in the middle.