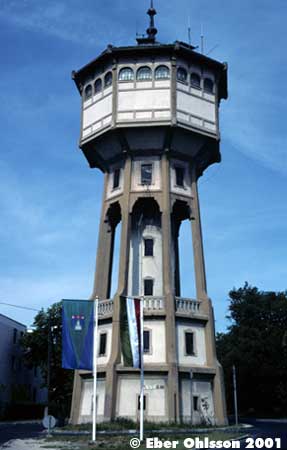 Cirkulation 6/2007

A free translation to English:

The Hungarian capital Budapest is divided of the tremendous river Danube. Once time it was two cities, Buda and Pest. Pest on the east side, there the Hungarian flat land spread, and Buda on the west side of Danube, there the hilly landscape begins.

On one of the heights here, which has got the sacral name the Hill of God, were there built an octagonal water tower after drawings from the architect professor Szilárd Zielinsky. He drew many water towers and was one of the pioneers of the reinforced concrete. The tower at Buda got a total height of ca. 33 m and a reservoir with the diameter 6,2 meter and a volume of 200 m³.