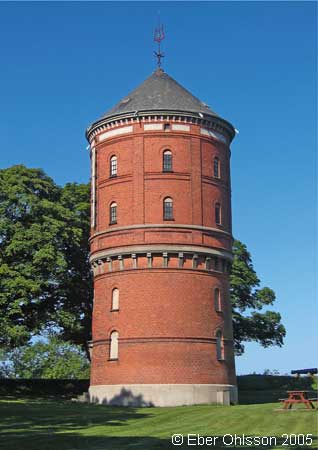 Cirkulation 8/2018

A free translation to English:

There are many parameters that influence the choice of location when a water tower shall be built. One is if you already have an elevation near the consumers, because in that case, it will reduce the construction cost, as if the land is already in public ownership. Therefore, one also finds several water towers on the fortification land.

Such height is Dronningens [the Queens] bastion in the city Nyborg Renaissance fortification. Here, on the Danish island of Funen's east coast was there in 1899 therefore built a water tower in brick, barely 23 meters high and designed by architect Emil Swanenflügel. The water tower, with a water level indicator on the facade, is since 1997 a listed building.