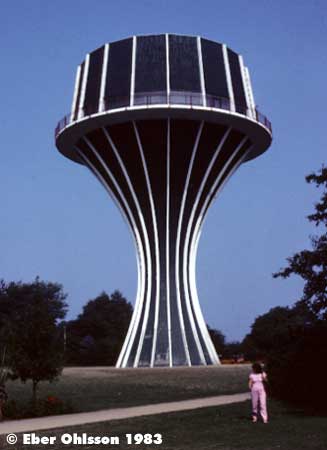 Cirkulation 6/1998

A free translation to English:

The city of Flensburg in the north German federal state Schleswig-Holstein is situated in the innermost part of the fjord that carries the name of the city. On the western side of the fjord, Altstadt is there a beautiful traditional pattern brick-built water tower in yellow and red bricks, built 1901-02.

On the heights east of the fjord there is a water tower that forms a shape contrast to the old water tower, both to colour and to form. It is a water tower that uses the possibility of the concrete to build in exciting geometrical forms. Architect professor Fritz Trautwein has here 1961 constructed a water tower; there the parabola segment round a vertical is strong marked on the tower shaft, and additional emphasized the light and thin vertical moulding.

To the facile price of 1 D-Mark, it is under five summer months possible to visit the 26 meter above the ground situated belvedere, surrounded a reservoir on 1 500 m³, and there admire the view over the fjord of Flensburg and the Danish South Jutland.

After a such visit can they that not only want water, with advantage visit the nearby Hotel "Am Wasserturm", and get water mixed with yeast, malt and hops.