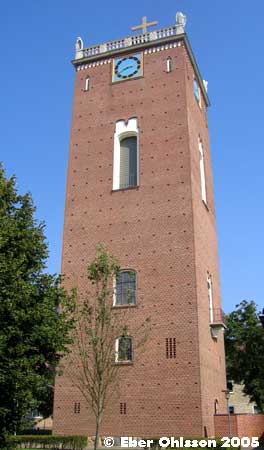 Cirkulation 8/2006

Småland is a region in Sweden, north of Scania.

A free translation to English:

The Western Jutland is a region in Denmark with lean soil, which has created rough conditions for the inhabitants. It has forced them to both economic and enterprising spirit. The similarity with the Småland is obvious, both when it concern the economic and the religious conditions.

The economy virtue came to an expression 1950, when Herning, a metropolis in the moor land, should build a new water tower, but even a new church. The potential of the savings was obvious if the water tower and the church tower could be combined. The tower of the church Saint John, designed by Öllegaard and Packness, contain therefore today a water reservoir of 400 m³.