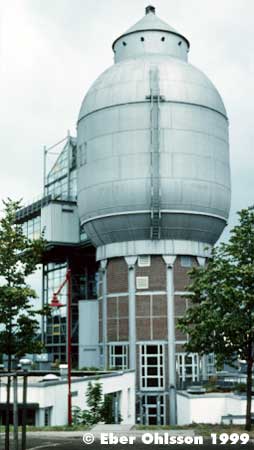 Cirkulation 1/2003

The Swedish word "biofilm" has various meaning, both "bio film" and "cinema film", biograf=cinema. The German word "Turm"=tower.

A free translation to English:

Bio film in a water reservoir is regarded as something negative - pollution. In Neunkirchen in the German Saarland is movie [biofilm] something positive, because there are arranged four cinemas in the closed down cooling water tower of the ironworks. The 41 meter high tower with a largest diameter of 14 meter, hold 2 200 m³ water when it stood ready 1936.

The water tower become a historic building 1985, and after rebuilt and extension built 1996 is here now recreation centre, pub, bistro, café and a small brewery with the beer Turm Gold and Turm Black. But even the multi cinema Cinetower, there it perhaps sometimes will be fluid production in form of tears.