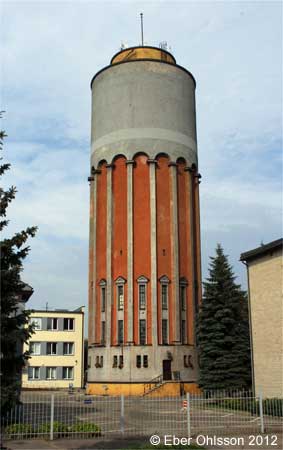 Cirkulation 6/2013

A free translation to English:

The construction of the water tower in the Lithuanian city of Šiauliai was in progress last longer than planned. 1939 started building of the tower, designed by Professor P Morkunas and A Janulionis, but in the year after the building was delayed when Lithuania was occupied by the Soviet Union, and after another year came Nazi German troops.

In 1944 returned the battlefront and now became the Soviet occupation more permanent. Eventually, however, continued construction of the 47 meter high water tower and in 1948 it was clear. A reasonable delay, given the circumstances. The tower is still in operation and in the downstairs is there now a water and sewer museum.