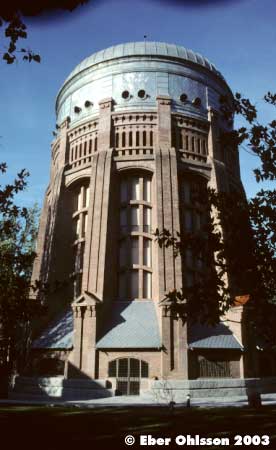 Cirkulation 2/2004

The Swedish word "tanken" has various meaning, both "the tank" and "the thought".

A free translation to English:

The water company of Madrid, Canal de Isabel II, named after a Spanish queen of the 1800s, has a magnificent water tower close to its headquarter. The 36 meter high tower with a dome-shaped zinc roof and a generous use of brick is designed by engineer Martín y Montalvo. The 12-side tower, with a steel reservoir on 1 500 m³, was built 1908-11 and was in duty until 1952.

After a decision 1985, was the tower restored and rebuilt to galleries. Now is here often photo exhibitions and on inside the white painted walls of the steel-reservoir is there showed multislide presentations and you can get by that experience in the thought/ the reservoir.