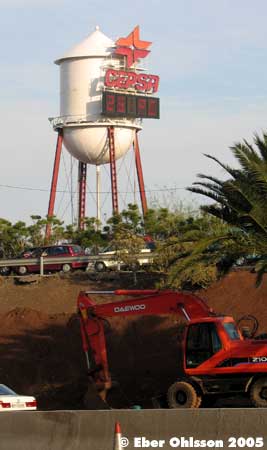 Cirkulation 7/2005

A free translation to English:

There is usually sparring with water towers of the greatest distinction on the Vulcan islands, because the topography here gives good preferences to the alternative of ground reservoirs. One exception that confirms the rule is standing in Santa Cruz on the Tenerife Island. Here is a big oil refinery situated, the oldest in Spain, with a very common standard steel water tower.

The question is if the function of the water tower nowadays is the primary, there it is standing on the approach of the motorway to the city. It has probably more the function of sign stand to the big oil company CEPSA that here present both time and temperature in digital form, but probably never need to present minus degrees.