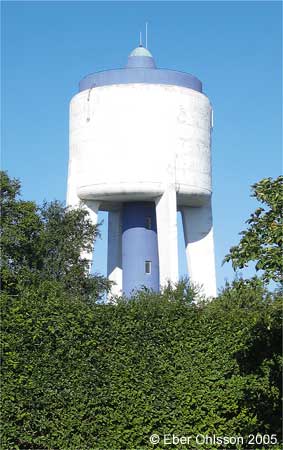 Cirkulation 8/2013

In Scanian, the word "vann" means both "won" and "water",
and "på" means "on".

In Swedish, the word "bett" means both "asked" and "bite". And "folkmun" is translated to "popular parlance", but a direct translation should be "peoples mouth".

A free translation to English:

Buildings get sometimes popular epithet, something that even can applies on water towers, as one of the towers of Danish Korsør with the popular parlance epithet The Molar. The water tower is the result of an architectural competition in 1947, which was won by E Frandsen and J Falster. They "vann på vann", as a Scanian would have said. The 30 meter high tower of reinforced concrete can hold 450 m³.

Teeth, dental status and caries were otherwise something widely discussed 50 years ago. There were proposals to add fluoride to drinking water. But there were protests, no one had asked for this general medication. Citizens have nevertheless a good bite without prostheses.