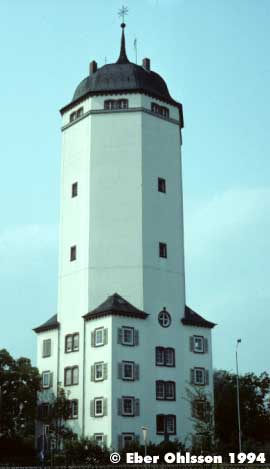 Cirkulation 2/1999

A free translation to English:

Live close to the water are regarding as very attractive, and what was in that case not more attractive than to live in a water tower. Logic is there many water towers that even contain apartments, as an example is the water tower in Seligenstadt in the south Hesse [Hessen] in Germany. A smaller town from 800s with all the qualities that there are in older German towns, and water tower that in the style harmony with the local building tradition. It means that the tower seems to be older than the building year 1936/37.

The 50 metres high building with a reservoir on 500 m³, is not longer in operation, which has done that there are plans to have apartments even in the upper part of the tower building. The tower is now standing as a symbol of the town, equal with the basilica and other very old buildings. The citizen of the Seligenstadt live even with a drained water tower close to the water, because the idyllic town with its old half-timbered houses is situated at the west bank of the river Main.