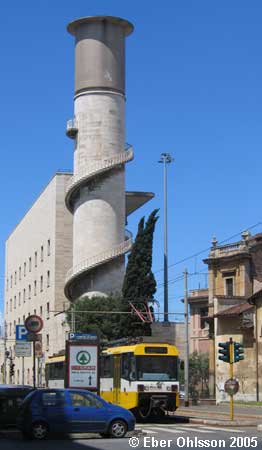 Cirkulation 4/2008

A free translation to English:

Stazione Termini, Rome Central Station, is named after one of the Roman large baths, Diocletianus thermae, there baths was going on in alternating warm and cold water. On the opposite part of the station area is there two flank water towers that ought to have delivered cold water to the locomotives, water that thereafter was heated.

The water towers are drawn by chief engineer and chief architect Angiolo Mazzoni that was inspired by the Constructivist architecture style. The towers as well as the renewal of the station were a work on the eve of the great World Exhibition 1942 in Rome, an event that however comes to nothing.