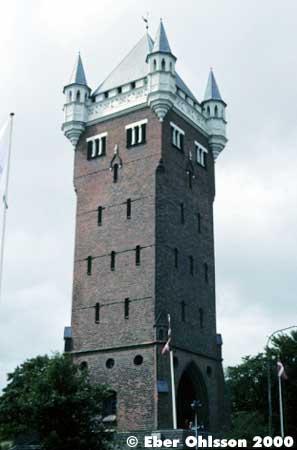 Cirkulation 1/2002

The English expression "in the gravy" has a comparing Swedish expression (translated) "in the butter".

A free translation to English:

Illustrate margarine packets with water towers is not usually, but has been applied by the Esbjerg Margarinefabrik [Esbjerg Margarine factory]. It is a trick that is intelligible, because a trade market shall be distinctive and besides that connected to positive values. What can in that case be more suitable than a magnificent water tower and besides that the mark of the Danish town.

Architect for the since 1897 on a hill, also a Bronze Age hill, standing western Jutland tower, with its characteristic tourelles, was Christian Hjerrild Clausen. He had in all probability the Medieval Haus Nassaau in Nuremberg as a model. The cylindrical reservoir of the tower is holding only 130 m³, which early was too little in the expansive export port town.

The tower that since long time is out of operation, got at ten years ago a solid repair work, and has today summer exhibitions with tower view. The tower that is a historic building and has its own association, is so to say, in the gravy.