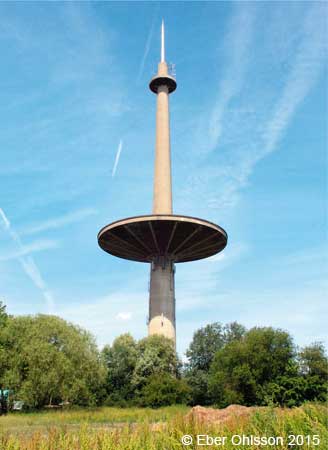 Cirkulation 4/2022

A free translation to English:

Today, the water tower is often retrofitted with masts for ether communication, not least for mobile traffic, which has devastating effects on the water tower's appearance. A tower, however, initially planned for both functions is in the Flemish city of Mechelen, a town halfway between Antwerp and Brussels.

The construction consists of a 120 m high cone-shaped hollow shaft in reinforced concrete, at the base 9.2 m wide and higher up 3.4 m. At the top there is a 20 m high mast in stainless steel. The reservoir, built on the ground, has a diameter of 40 m and accommodates 2,500 m³. Professor Fernand Mortelmans has designed the tower.