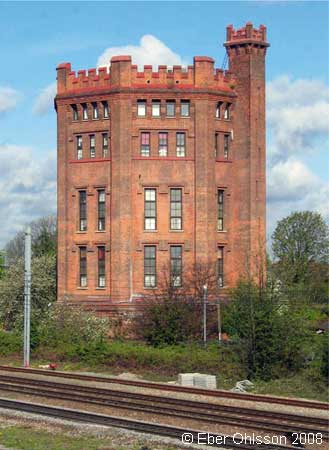 Cirkulation 7/2017

A free translation to English:

Great Western Railway is a legendary railway in England. It had traffic from Paddington station in London and westward. Chief engineer was the famous Isambard Kingdom Brunel, who chose the broad-gauge of 2 134 mm, a gauge which, however, was later changed to our standard-gauge of 1 435 mm.

In Southall, 15 km west of Paddington, the railway built 1895 by Hanson Brothers an octagonal 32 meter high water tower with crenellation, known as Southall's 'Castle', where the steam engines could fill water until 1968. The old Victorian water tower was reconstructed in 1983 into one- and two-room flats.