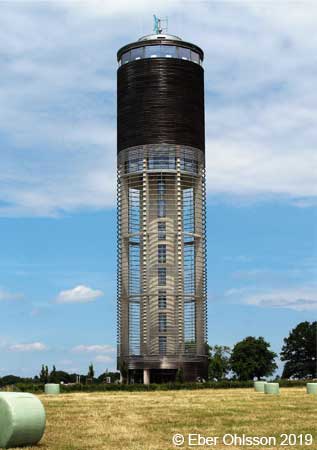 Cirkulation 5/2020

A free translation to English:

Berdorf in Luxembourg, Bäerderf in Lëtzebuerg in the country's language, is a small town that got its first water tower in 1901, a tower that was destroyed in the Battle of the Bulge in 1944. When the church tower was destroyed in a fire in 1941, they were both replaced with a new combined church and water tower in 1951.

In 2015, a new 56 meter high water tower, Aquatower, was ready, with a reservoir of 500 m³, where there are also exhibition and viewing rooms, all at a cost of 6.5 MEUR. You can visit the tower for a fee and get information about water and geology as well as a panoramic view. Outside the tower are water play equipment.