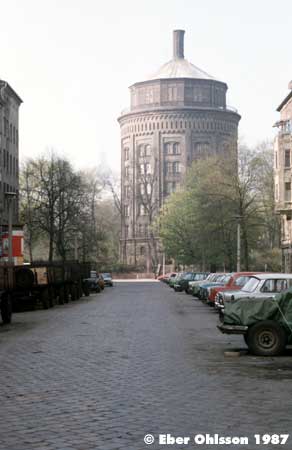 Cirkulation 3/2007

A free translation to English:

A view with water tower, wagons loaded with brown coal and two-stroke cars. The impression of DDR is clear, which not the air was. The smell of brown coal is still perceptible, when the picture of the German water tower on the Prenzlauer Berg in Berlin is projected on the retina. The area around the water tower was from the beginning a wind mill hill, there the English 1855/56 built a water work, which however was closed down 1915.

Still stand, excluding a 150 years old standpipe of bricks, is the water tower on the picture. A water tower with stand pipe built 1875, that was housing flats already from the beginning. It has meet experience from many of Berlin's political regimes.