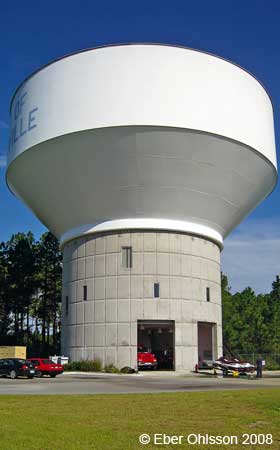 Cirkulation 6/2011

A free translation to English:

What would the fire department be without water? Limited. The fire department is thus living in symbiosis with the water works. When, in the early 1990s, the city of Hinesville in Georgia in the U.S., built a new water tower, holding 9 460 m³ water, the lower space of the tower was not used.

When, 10 years later, the city needed a fire station in the same area, it was realized that it would be cheaper if it was established in the water tower. Today the space below the water reservoir is a fire station on three floors, with fire trucks, sleeping room and exercise room. The firefighters can then sleep soundly, knowing that the water is always close to them.