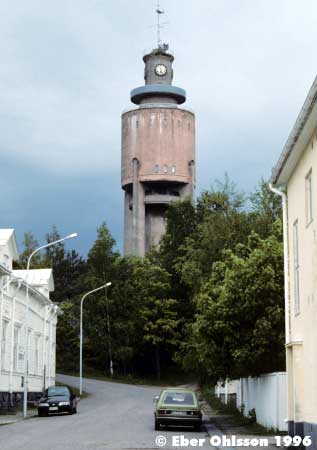 Cirkulation 3/2000

The name of bilingual town is in Finnish = Hanko and in Swedish = Hangö.

A free translation to English:

Grey and apparently gloomy water tower sits in state on the hill in Hanko/Hangö, the southernmost town in Finland. But the tower is coloured by the history. It was finished 1943 just while the war was raging, and replaced at that time a water tower in granite from 1910. The old tower had the Russian burst 1941, when they were forced to leave the leasehold zone Hanko/Hangö.

The new 48 metres high tower, with a reservoir standing on among other things four rectangular pillars, is designed by engineer Nikander and architect Bertel Liljeqvist. On the top of the of the pillars should originally mermaid decorations has been placed, but because of the expense sit in state there now shells, shaped by the sculptor Gunnar Finne.

Above the reservoir on 490 m³, is there a belvedere, from where you can see over the water of Hanko/Hangö. The first tower on this place was a fire tower in tree that stood there 1886-1910. All the three towers had one detail common, a clock in all the four cardinal points. In other words - they bear the impress of the times.