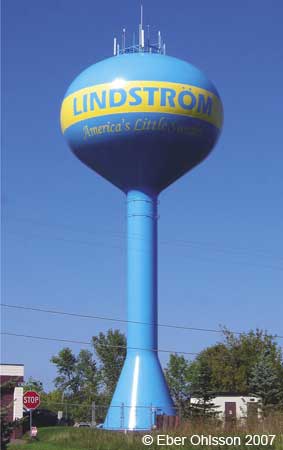 Cirkulation 2/2012

In the famous Swedish novel series (four novels) "The Emigrants" by the author Vilhelm Moberg are the main characters Karl-Oskar and Kristina, Swedish emigrants moving to the USA (East Minnesota) in 19th century.

Lindström is a not uncommon Swedish last name. A wellknown Swedish dish is "Biff à la Lindström". My Swedish original version of the English sentence "It's in the bag" is a Swedish expression that can be linked to "Beef à la Lindström".

A free translation to English:

In todays global electronic world is the domination of the English language evident, and the letters that this language use standardizing. It means that even closely related language as the Swedish, sometimes got problem with the letters that the English not have. Å, Ä och Ö will not seldom be A, A and O, which sometimes got comic results.

When the little Swedish town Lindstrom in eastern Minnesota in USA, the new home district of Karl-Oskar and Kristina, got a new water tower, it was painted in yellow and blue. To put icing on the cake, recounted one name with the old language dots over o:et. It's in the bag.