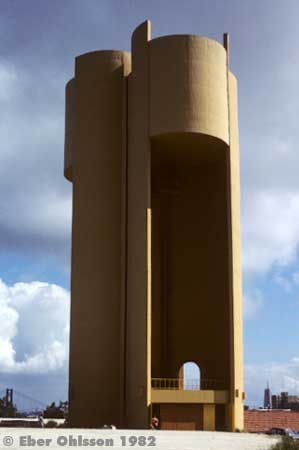 Cirkulation 7/2000

A free translation to English:

On a high river bank on the western bank of the river Tagus [Tejo], is there since 1979 standing a yellow water tower in concrete. The carrying part of the tower consist of three half cylinders, with the openings out. The half cylinders is transformed in the upper part into three closed cylinders, that together make up the reservoir on 1 000 m³. This water tower has the name in Portuguese Reservatòrio elevado do Rapouso.

The writer came once 1982 to the tower, and asked some questions about the water tower to the engineer that work with a pump installation in the basement. The engineer had no time to answer my questions, because he and his installation staff should go and have lunch, but if I was interested I could walk up in the tower.

That was done and up in the tower I got a marvellous view over the city that is on the other side of the river Tagus - Lisbon [Lisboa]. Nowadays is the water tower enclosed with a two metre high fence, and crested with barb wires.