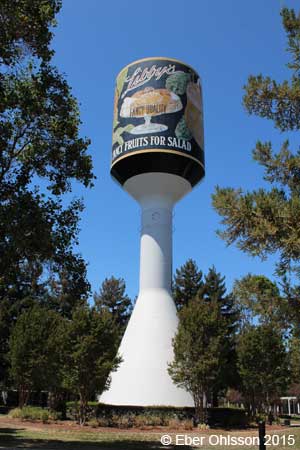 Cirkulation 5/2021

A free translation to English:

A can that contains only water may not be the most easily sold item, if it is not many times larger and is a neatly advertising painted water tower. In Sunnyvale, California, USA, there is a 46 m high water tower, which holds 570 m³ and is shaped and painted like a can of fruit cocktail from Libby's.

The factory in Sunnyvale started in 1907 and in 1922 became the world's largest cannery, where the first wooden water tower in 1965 was replaced by the current tower. The factory is now demolished, but the tower is still standing, now surrounded by high-tech companies, as it stands in the heart of Silicon Valley.