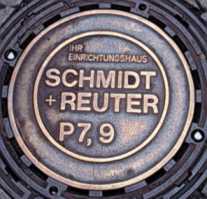 © Eber Ohlsson 1990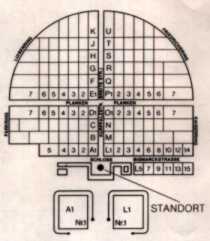 A free translation to English:

A text at a manhole cover, state usual information about the pipe that it is connected to. But there are exceptions. The manhole cover at the picture from Mannheim, a city in Baden-Württemberg, Germany, shows that. The manhole cover is double interesting.

At the first: It is an advertising manhole cover. In many cities in Germany, you can find manhole covers, there the local firm advertises for its products or services. In Mannheim is there at the given address, a house with decoration/furniture, Schmidt+Reuter.

At the second: The street address (P7,9) differs from the normal. Mannheim has as you see a very special address form. The once strongly fortified and circular city, on a neck of land between the rivers Neckar and Rhine, is divided in four quadrants.

The two axles that cross each other, and which divide the city, is the only that have a street name. All blocks, strict quadratic, has one letter and one numerical term according to a certain pattern (A1-U6). Numbering of the houses go on by blocks, east of the axle clockwise, west of the axle anticlockwise.

The address on the manhole cover can therefore, to the well-informed, be easy to find (close to the magnificent water tower). As a matter of fact is there a good reason why the city is called "Stadt im Quadrat".