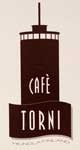 Architect Kaarlo Könönen has designed the water tower, which was completed in 1951.

At the top of the tower, 45 meters up, there is a café, which opened in 1954. The café, which has good views, is accessible by elevator or stairs.

Heinola Water Tower was the first water tower in Finland that had a café overlooking the surrounding area.